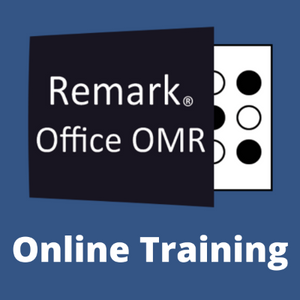 One-on-one online training for the Remark Office OMR Software gives you two hours of dedicated time with a Remark professional so you can quickly learn the latest version of Remark Office OMR. Training is completed online and is a "train the trainer" presentation. You may have up to three people in attendance.
Once you purchase the training, a Remark expert will contact you to discuss your needs and schedule the session with you.
Here are the important benefits of One-on-one online training:
Training is tailored to your specific needs.
If possible, our expert will work with your files during the training to produce real results. You will get a copy of any files specific to your training.
You will have one-on-one interaction where you can ask questions that pertain specifically to you.
The entire session is online at the comfort of your own desk.
Here's how it works and what you need:
Training for up to two (2) hours, for up to three (3) attendees in one location.
Training occurs online via the Internet using GoToMeeting. A high-speed connection is required for this training.
Prior to the training, our staff will contact you to discuss your needs so that we may tailor the session to you.
Time frame for the training will be based on a mutually agreed open date and time, usually during Gravic office hours (9AM-6PM EST/EDT). If you cannot meet this schedule, please contact us prior to ordering training and we will see if we can accommodate you. Additional fees may apply to a training session held outside of our normal office hours.
Training is offered for the current release of the software or application only.
The training is provided in English.